The 10th & 11th Blocks of Humboldt Street
This small historic area is comprised of only the 10th and 11th blocks of Humboldt Street. It is the second area in Denver to gain the historic designation (Larimer Square was the first). Humboldt Island has quite a few houses on it and although six are relatively new, the majority of the houses on Humboldt Island are huge and very unique in style. And unlike the frilly Victorians that were built on Capitol Hill, these stately homes are far more grand.
****A Favorite Historic Note****
My favorite home on Humboldt Island is the house at 1022 Humboldt Street commonly referred to as The Stoiber-Reed-Humphrey Mansion. This is the home where my husband and I were married in 1972. This Renaissance Revival mansion was built in 1907 at a cost of $65,000.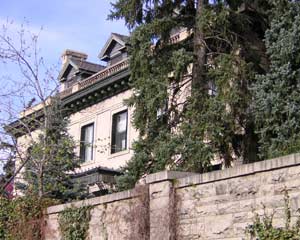 Marean and Norton designed this house for Edward Stoiber and his wife Lena. Lena had the twelve foot wall built when she heard that the neighbors were gossiping about a compromising rumor. Like Molly Brown she was never able to be accepted into Denver society.
While my husband and I were living there, we enjoyed the opulence of yesterday and took full advantage of the 15 bedrooms, 15 bath rooms, the prohibition room, the bowling alley, the barber shop……and the resident GHOST!!!! Yes, there was a female ghost who sat on the end of the dining room table weeping. She was very upset that they had moved her body from Cheesman Cemetery, but they forgot to take her head!!! And she was back to find it! Needless to say, if you have read the history of Cheesman Park,you know well that this could be true!
Humboldt Court is considered part of this enclave and is made up of the four houses on the southeast corner of 12th and Humboldt. The corner house is a Queen Anne tower attached to a Denver Square and was built in 1899 at a cost of $5,800. In 1981 the three other older homes were moved to Humboldt Court from 11th and Race in order to make room for a new town home development.