History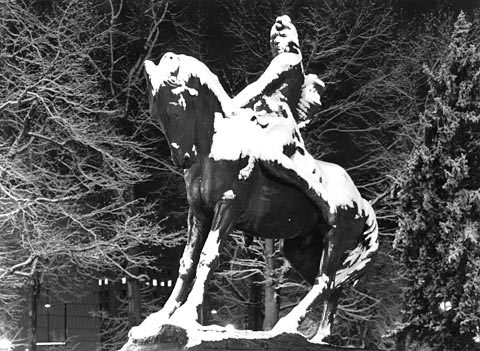 "On the War Path" Civic Center Park – Photo by Gifford Ewing
Downtown Denver paved the way for the metro area we know today. The Gold Rush of 1859 brought about the merger of three fledgling communities at the confluence of the South Platte River and Cherry Creek. The City of Denver began to grow along Larimer Street. As mining wealth grew, so did the development of rugged wooden structures that housed banking and merchandising. A disastrous fire in 1863 destroyed most of downtown. When the area was reconstructed, brick and stone were the only building materials permitted. By 1876, they were the only materials allowed for any building construction in the city – a law that prevailed until the 1940s.
New arrivals to Denver in the 1870s could expect to find a job before they found available housing. This influx prompted the development of elaborate hotels, many financed by gold and silver fortunes. Denver's first "skyscraper", the five – story Tabor Block, was built in 1880 by silver baron, Horace A W Tabor, who also brought culture to "the wild west" with his Tabor Grand Opera House. Downtown primarily served the commercial and travel trade. Union Station, which still dominates the northwest end of Seventeenth Street was constructed in 1881. Warehouses began to spring up in both directions along Wynkoop – still known as "Warehouse Row." The historic Oxford, Barth and Brown Palace Hotels were all built in this era.
By 1910 Downtown Denver was a bustling center of commerce. In this same year, the tower adjoining the Daniels and Fisher department store was built. The Daniels and Fisher Tower stood for more than forty years as the "tallest commercial building in the United States." The once plush Daniels and Fisher store fell to the wrecking ball in the late 1960s, but Denverites have been loathe to topple the tower; it stands today, restored as offices.
Development in Downtown Denver continued through the 1920s. Many ornate buildings were constructed and most of the "triangle" area that makes up Downtown was developed. Seventeenth Street, with its rows of banks and financial institutions became known as the "Wall Street of the West," serving the financial needs of the entire Rocky Mountain region. The "Great Depression" of the 1930s put a stop to development and the face of Downtown remained largely unchanged for the next several decades.
Following World War II, Downtown began to move into the "Jet Age". Stately, ornate old buildings, at that point considered out – dated and inefficient, were demolished to make way for towering glass and steel structures. The Auraria area southwest of Cherry Creek was cleared to make way for the present – day education complex that houses the University of Colorado at Denver, Metropolitan State College and the Community College of Denver.
Read more about our three favorite 
Historic Villages in the Downtown area:
Curtis Park
Clements
San Rafael
Explore Downtown
Current View 
Schools
Historic Taverns and Restaurants
Neighborhood Associations
Information