German or "Deustch" settlers in Pennsylvania originated the Dutch Colonial style. In Denver they were built between the mid 1890s and WWII and are easily identified by their dominating barn like broad gambrel roof with flaring eaves and dormers found on side gambrel roofs. Front porches tend to incorporated classical elements as this style is considered a variation of the Colonial Revival style.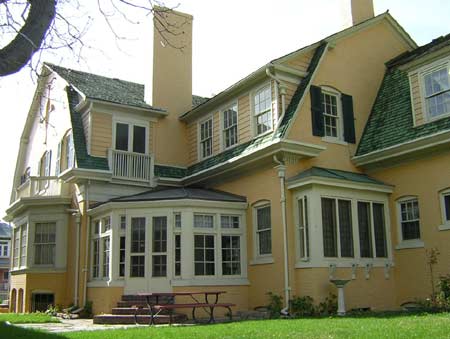 1880 Gaylord Street
Pearce-McAllister House
Designed by Sterner & Varain in 1898, this is one of the best examples of
Dutch Colonial Revival in Denver. It is owned and operated as a museum by the
Colorado Historic Society and is on the National Register of Historic Places.
1337 Race Street

Built in 1891 by Balcomb and Rice, this is another fine example of Dutch Colonial Revival. Walk down this entire block as it is one of Sonja's most favorite in the city for individual architectural styles.

Cheesman Park

2551 West 34th Avenue

Note the use of rectangular, diamond and fish scale shingles.

1460 High Street

Built in 1890, Architect William Lang incorporated what may be Denver's earliest examples of a gambrel roof, as part of what otherwise is considered Victorian. The Palladian windows are a manifestation of the Colonial Revival style.

1718 Gaylord Street

This Denver Landmark was built by Architect Harold W Baerresen for himself in 1903.

2322 Ash Street


The Bride's Delight
Designed by William E Fisher and built in 1905. This is a more modest example of a side gambrel house, one of many built by Fisher for newlyweds.
Source: Denver the City Beautiful by Thomas J Noel & Barbara Norgren