Curtis to California, 24th to 33rd
Since its founding, Curtis Park has had a rich tapestry of people and cultures. Curtis Park was Denver's first park. Land for it was donated by real estate investors hoping that the park would entice people to build homes in the new area. It soon became the residential district for the growing city. It has always been a mixed-income neighborhood where, interspersed among the neighborhood's turn of the century mansions, are smaller homes built by waves of immigrants who came to Denver to join the workforce during the city's early years. Back then, residents took the streetcar to jobs downtown or strolled the 15-minute walk to the city's center. In subsequent years, the area was often considered "seedy." With the "historic" designation in 1975, the neighborhood saw the return of the middle class. Residents are attracted by the charm, the unique style of homes and close proximity to Downtown. Today, neighbors can take a quick ride on light rail to get to Downtown's businesses and office buildings. A current effort that is changing the landscape of Curtis Park is the rebuilding of the neighborhood's housing projects through a $26 million federal HOPE VI grant. Four blocks of two-story apartment buildings that were built for public housing in the 1950s were demolished and are being rebuilt as market-rate apartments and condominiums alongside affordable and low-income units. The economic diversity of the community helps make Curtis Park a unique and welcome home to all types of people.
As you stroll down its tree-lined streets, one of the most noticeable aspects of the community is its incredible diversity. It's a wonderfully integrated mix of all kinds of housing. Curtis Park's housing mix is as charming and varied as its residents. Single story duplexes stand next door to recently renovated grand Victorian mansions; flat-roofed row homes reside beside classic, two-story Denver Square brick houses, and Queen Anne-style homes with second floor porches are also numerous. Curtis Park has more single-family residences than the typical row-houses found in older cities. Among the many styles represented are Queen Annes, Italianate Villas, Eastlake, and a variation of the Rowhouse. Details like tin shingles, cresting, mansard roofs and intricate bracketing evoke European memories. The garden community still shows the early settlers interests in elms, maples, Harrison's yellow roses, iris, day lilies and peonies – all foreign to the local horticulture. Mansions anchor corners in many blocks with cottages interspersed.
Our Vision
To create a heritage center where African American history is celebrated 365 days of the year.
Our Plan
To provide a center emphasizing positive contributions of African Americans while preserving African American History.
Our Mission
To teach African American history and to encourage young people to go forward with dignity and pride.
Our Goal
To help all people become aware of the significant contributions African Americans have made toward the development and progress of America.
In 2005, we were named The Best of Denver by Westword
Magazine for our rich cultural teachings and diverse educational environment. 
The Women's Bean Project
The Women's Bean Project is an entrepreneurial business and job skills program for low-income women and is housed in a renovated firehouse. For more than 16 years, they have helped women break the cycle of poverty and unemployment by teaching workplace competencies for entry-level jobs and by teaching job readiness skills in their gourmet food production business.Sacred Heart
The oldest functioning church in the city, this place of worship was established in 1879 for Italian and Irish immigrants. Run by the Jesuits, this church is in the traditional cruciform shape. The present wooden steeple was replaced after the original belfry threatened to crash through the roof. Back in 1912, two priests in residence restored the scaffolding and repainted the whole church. The interior has a Gothic feel with ornate windows of stained glass. In addition, there is a beautiful mural of the death and resurrection of Jesus.
Mestizo-Curtis Park
This is the neighborhood\'s namesake open space. It lies in the center of the neighborhood, and was created in 1868 as Denver\'s first public park. Originally named after postmaster Samuel S. Curtis, the name was recently amended to Mestizo-Curtis Park to celebrate the cultural diversity of the community. The park offers an outdoor pool, tennis and basketball courts, horseshoe pits, soccer field, and a new playground.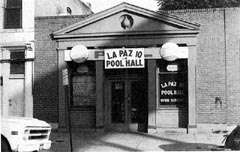 DOUGLASS UNDERTAKING PARLOR
2745 Welton Street
Built in 1891, this cottage was remodeled in 1916 with a Neoclassical façade designed by Merril and Burnham Hoyt. Housed the undertaking business owned and operated by the son of abolitionist Frederick Douglass until 1957, when it became a billiard hall.
Read about the history of Curtis Park
Neighborhood Associations
Curtis Park Block Council
2611 Stout Street, Denver CO, 80205
Curtis Park Citizen Council
2963 Champa, Denver CO 80205